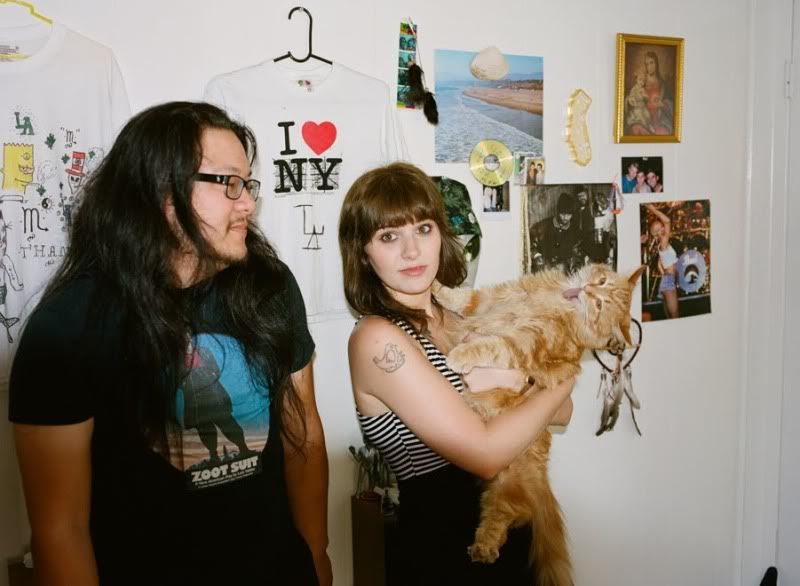 source

i
admit..i'm addicted to best coast.
since teresa discovered them last may i'm not able to stop listening to bethany's voice,complaining about stupid boys and ridiculous feelings.
my parents,my friends and our nighbours hate me for the 24 hours long acoustic irradiation and even if i'm not listening to best coast
i'm always singing any songi can't get the lyrics out of my head,me and my friends we have no chance to escape..
i love best coast with all of my heart
i think bethany and me..we could be good friends.
drinking wine while eating fast food in the sun and playing with cats or something.
and bobb and me...we could dance to madonna and shake our long hair haha
basically the reason for this post is that i discovered today that best coast will
play a few gigs in europe AND GERMANY YES YES YES i'm still giggling and jumping up and down on
my bed while screaming the lyrics of boyfriend
i'll try to see the gig in colonge (even if i have to walk) at the 7th december or hamburg at the
13th or berlin at the 14th ( more dates )and skip some days of school
i'm a bad girl
thats what you call band love right?



ps
teresa and i spent the last three days together
we went to the zoo,had hours long walks through the nature,refused to go to any "wild" party,
ate a lots of delicious food, watched a lots of movies and complained about stupid boys
and ridiculous feeling while listining to best coast.